CANCELED: Joy of Spring Hämeenlinna
Hämeenlinna, Verkatehdas
Ticket sales start on 1 March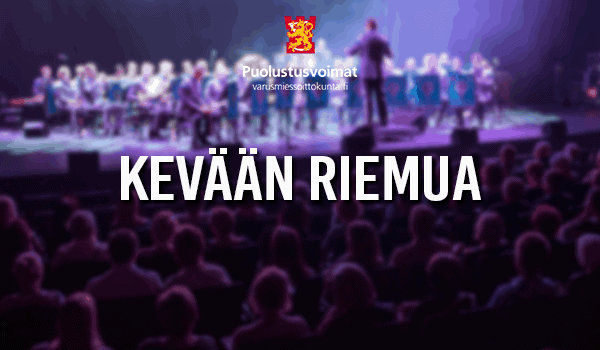 On the spring tour of the Conscript Band, the audience will be entertained by the band's symphonic wind orchestra, the Concert Orchestra and the Entertainment Orchestra, reinforced by soprano Reeta Vestman.
Vestman, who graduated from the prestigious Royal Academy of Music in London with a degree in music theatre and a Master's degree in music from the Sibelius Academy, is known for both her outstanding acting and her 3.5-octave vocal range. She has gained popularity in her female lead roles in the musicals The Saturday Night Fever (Kotka City Theatre), The Sound of Music (Kuopio City Theatre), The Rocky Horror Show and KAKOLA (Turku City Theatre). Together with the Conscript Band, she will take over the tour's versatile and entertaining repertoire!
On stage, a tour-de-force of the best musicians in their age group, the most captivating entertainers, and the conscripts serving as musician is unleashed on the stage, as the musical skills of the Conscript Band, the Orchestra Band, and the Entertainment Orchestra come together.
The conductors are First Lieutenant (Mus.) Juhani Valtasalmi and First Lieutenant (Mus.) Risto Sojakka.
Location
Verkatehdas Oy, 13200, Hämeenlinna.