CANCELLED: Hyvää ja kaunista – Finnish Pop and Rock Rovaniemi
Rovaniemi, Kulttuuritalo Korundi
Tickets 22,50 € / 17,50 €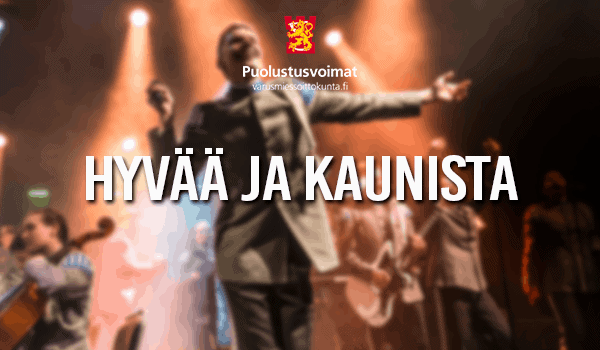 The Conscript Band of the Defence Forces goes rock and roll!
The most skilled young musicians of their age group perform domestic pop and rock music from the 60s to the present day with a military attention to detail, not forgetting the characteristic flair of young musicians. The concert will feature the Conscript Band's Entertainment and Chamber Orchestras. The repertoire includes the conscripts' own arrangements of Finnish rock and pop classics, among other things.
The Conscript Band's Chamber Orchestra is Finland's only military string ensemble, and it is known for playing both classical and popular music. The Entertainment Orchestra is a full-on entertainment, as its name states. Together, the two form an ensemble where different music styles merge into a joyous fest of domestic pop and rock.
Whether the music of your youth is from the eighties or from last winter, this trip down the memory lane is a must-attend event!
Location
Kulttuuritalo Korundi, 96100, Rovaniemi.