Hyvää ja kaunista -concerts, Joensuu
Carelia Hall, Joensuu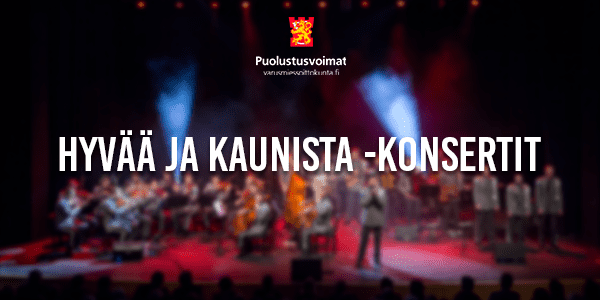 The Defence Forces Conscript Band's Hyvää ja kaunista Concerts are here again, more fantastic than ever! As before, music will be played by the Conscript Band's Entertainment and String Orchestras manned by talented, young musicians.  The programme includes a versatile selection Finnish classics from old schlager favourites to today's hits.
The Conscript Band's strings section is the only military band string ensemble in Finland, and it is famous for playing both classical and popular music.  The Entertainment Orchestra, as the name says, consists of virtuosos playing entertainment music.
Finnish hits get a whole new lease of life, and when it comes to levels of energy, there is no band like the Conscript Band.  A programme of a wide range of pieces from different years guarantees that the concerts will surely offer something pleasing the ear of audiences of every age.  Welcome to listen to both old and new classics played by the most skilled musicians of their age group!
Location
Carelia-sali, 80100, Joensuu.